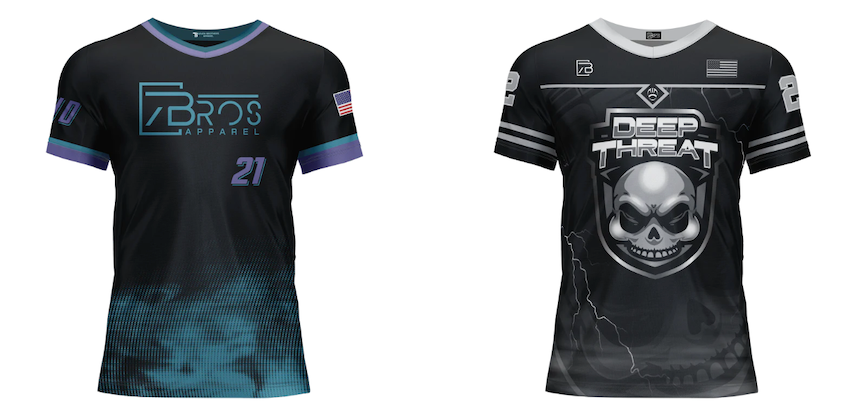 How To Print Custom Jerseys
When it comes to creating bulk custom jerseys for your baseball team, the design process can be daunting. After all, you want to ensure that your bulk custom jerseys look great and make a statement about your team's spirit. The good news is that with a few key tips, you can create bulk custom jerseys that reflect your team's style and personality! 
1. Choosing Colors & Fonts for Bulk Custom Jerseys
Begin by choosing colors and fonts that suit your team identity. Choose bright colors or bold patterns if you want to stand out on the field, while subdued tones give off an air of sophistication. For font selection, pick something legible but eye-catching – try using a block or serif font for an old-school vibe. You'll also want to consider including logos, patches, and embroidery on bulk custom jerseys to further customize the look. 
2. 
Selecting Fabrics
Another important factor is fabric. Regular cotton or polyester material is a popular choice for bulk custom jerseys because it's lightweight and breathable – perfect for playing in the scorching summer heat! If you have a larger budget, consider using soft fabrics like spandex or neoprene that provide more comfort and flexibility while on the field. 
3. Abrasion Resistance & Block Dye Migration
The abrasion resistance of a heat transfer material is an important consideration when designing custom jerseys for baseball teams. The material should be able to withstand the rigors of gameplay while maintaining its original quality.
Block dye migration is another important factor to consider when designing bulk custom jerseys. This type of material is designed to prevent any dyes or inks from transferring onto other fabric surfaces, which can be a major issue if not properly addressed. When selecting block dye materials for bulk custom jerseys, it's important to choose one that is specifically designed for use in sports apparel.
4. Finishing Touches: Making Sure Bulk Custom Jerseys Fit Right
No matter what fabric you choose, make sure bulk custom jerseys fit properly by trying them on before printing. A great fit adds to the overall look of bulk custom jerseys, making your team members feel comfortable as they play their best game yet! 
Printing bulk custom jerseys – what are the options?
Finally, when it comes to bulk printing options for your bulk custom jerseys, you have several choices. You can opt for screen printing, embroidery, or even digital transfer printing – all of which offer unique designs that bring bulk custom jerseys to life! 
Careful deliberation is needed to determine if you want your design transferred onto the fabric via a heat transfer process or printed directly. Furthermore, for jerseys that will be worn frequently(e.g., spirit wear), it's essential to use high-quality materials and inks, so the design does not fade prematurely.
Final Thought!
For bulk custom jerseys with complex logos and designs, consider using a reputable bulk printing company like 7Bros Apparel that specializes in bulk orders. With their experienced team of professionals and wide range of bulk printing options, you're sure to find the perfect bulk custom jerseys for your team in no time.
Follow these easy steps to make bulk custom jerseys that showcase your team's spirit and style on the field! And if you need any help along the way, 7bros is always happy to help with all of your bulk printing needs.