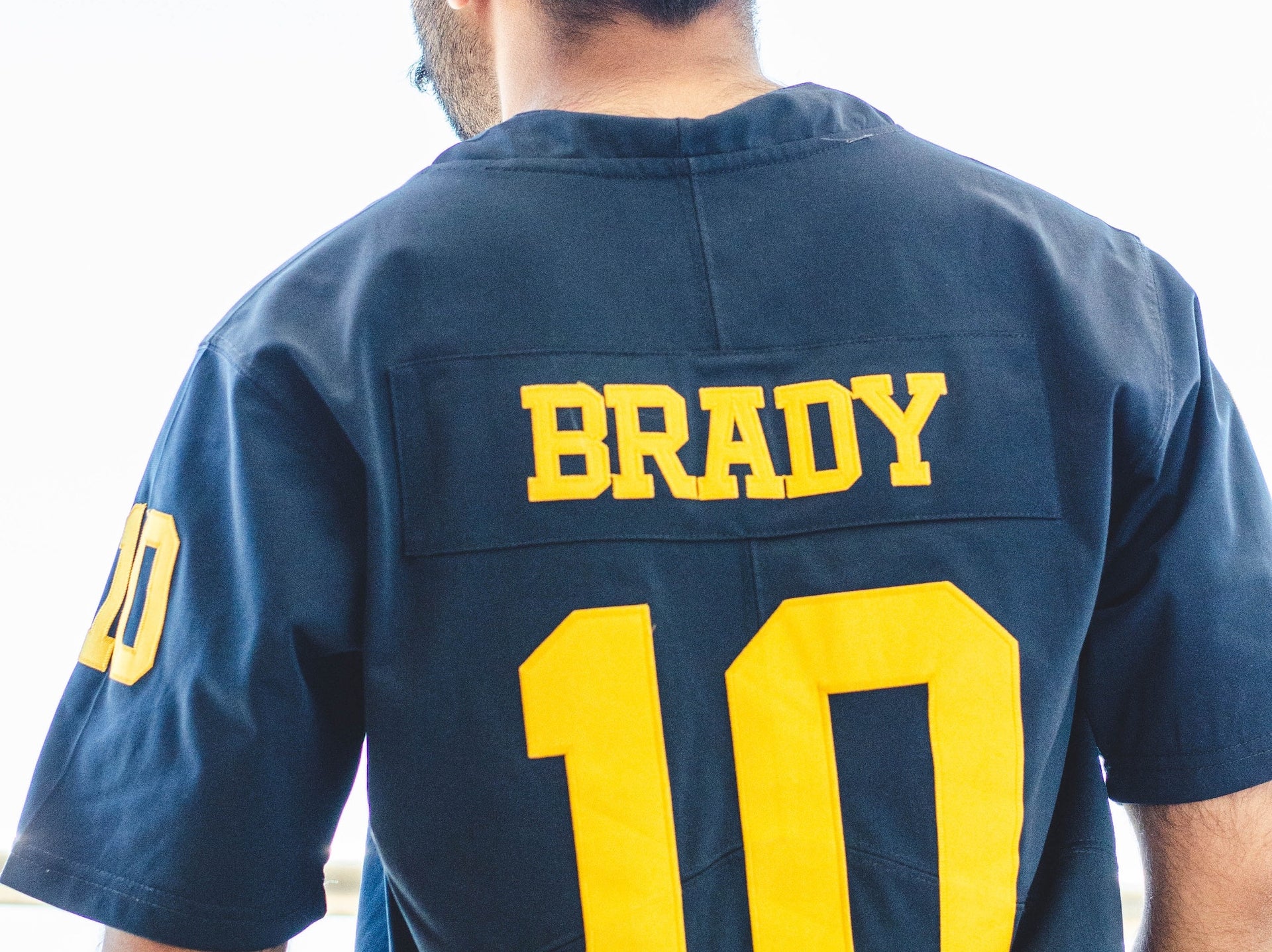 Styles Of Jersey Printing
Are you looking for a custom jersey that reflects your personal style, team spirit, and pride in your favorite sport? Whether you're playing a game of basketball or running a marathon, there is a perfect custom jersey for everyone. In this blog, we will discuss the different styles of custom jerseys available for men, women, and different sports. 
Different Sports and Jersey Styles
At 7Bros, we offer a vast selection of jerseys and custom team apparel to suit any sport. Here's a brief overview of the jersey styles available for different sports:
Hockey Jerseys: Traditional hockey jerseys are crafted with heavyweight knits or lightweight performance meshes for ultimate comfort and flexibility. Features such as solid or contrast-colored shoulders and sleeves, reinforced seams, padded elbows, and optional sewn-in vents create a secure fit while playing on the ice.

 

Football Jerseys: Football uniforms boast slim-fit body styles with raglan or set-in sleeves and reinforced seams for ultimate durability. For an edgier look, consider no-shoulder designs equipped with panels and mesh inserts for superior breathability. Elastic waistbands plus cuffs and various fabric options add to the customizability of football jerseys. These can also take custom embroidery!
Baseball Jerseys: Classic baseball jerseys come with v-neck collars and button fronts, while modern options come with an array of stylish touches such as raglan sleeves and stretchy, lightweight fabrics. Customize your baseball jerseys with team patches, piping, stripes, and trim for a unique look.

 

Basketball Jerseys: Basketball athletes require uniforms that keep them cool and cozy on the court - modern basketball jerseys are fashioned to be lightweight, with short or long-sleeve choices in a variety of cuts. Breathable mesh fabric inserts offer extra ventilation for added comfortability, while rib knit collars and cuffs create an ideal secure fit.

 

Track & Field Jerseys: Track and field athletes need jerseys that are light, breathable, and designed to keep the athlete cool. Choose from tank tops, v-neck shirts, sleeveless jerseys, and more - all customizable with team graphics or contrast trim for a more modern look.
Volleyball Jerseys: Choose from a variety of volleyball jerseys designed with mobility, breathability, and style in mind. It features contrast paneling, reinforced seams, and breathable vents for maximum performance.
Variations in Women's and Men's Apparel
Women's sports apparel is available in a chic range of designs and sizes, from timeless-sleeved jerseys to tank tops featuring narrow or wide shoulder straps. Full-cut shorts with drawstrings make sure you get your desired fit - all at once! Women field hockey athletes have the option to wear apparel pieces with a modern flair. Racerbacks or tanks feature an attractive flared uniform body, low-profile V-neck finish, and sewn-in side panels that allow for comfortable ease of motion. 
Men's sports attire offers a collection of classic jerseys, shorts, and tanks. The variety ranges from champion to lose-fit designs with adjustable inseam measurements for the perfect fit. Jerseys are available with a traditional crew or V-shaped necklines and 3/4 or short sleeves. Men's jerseys often feature a prominent chest logo, while women's jerseys may have a small logo at the hem. Tanks and singlets come in sleeveless, traditional, and compression designs so you can look and feel your best on the court or field.
Custom Jersey Printing Options
At 7Bros, custom jerseys are designed to be both reliable and comfortable, uniquely tailored to the exact requirements of your sport. Our use of advanced fabric technology ensures maximum breathability and moisture-wicking abilities to keep athletes cool during practices or competitions. 
You can take charge of designing the colors, patterns, and materials that would best represent your team while showcasing their spirit with our various jersey printing styles – guaranteeing one-of-a-kind apparel!
We offer three main types of jersey printing styles:
With screen printing, you'll get a classic look with vibrant colors that won't fade or crack over time. 
Digital printing
It has a more modern approach that allows for detailed designs and complex color combinations.
Sublimation

 
This printing method results in designs that are embedded into the fabric, creating an even more unique look.
Unlock the Possibilities: Create Your Ideal Uniform Today with 7Bros!
At 7Bros, we strive to provide you with top-of-the-line custom jerseys and apparel that are tailored to your individual needs. There's no need to forgo a signature style when it comes to sports jerseys; each sport requires its own distinct design. Let us work with you and design a spectacular jersey that will be remembered forever! With our ample customizable options, the dream of your perfect team uniform is right around the corner - take advantage today!