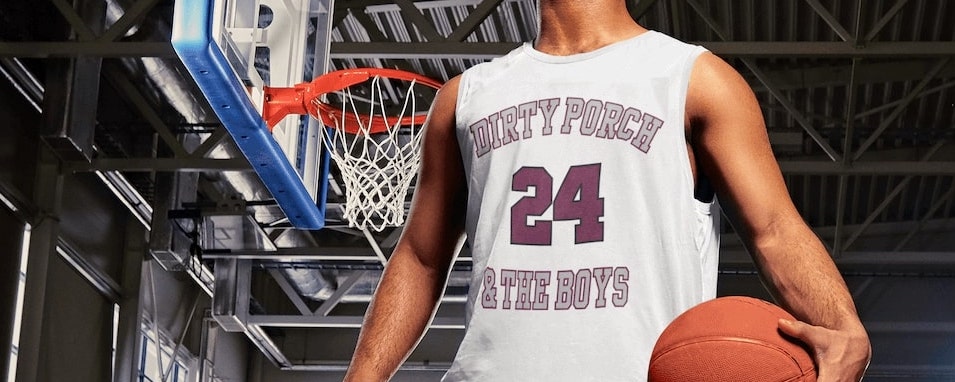 Print on Demand Basketball Jerseys
Welcome to 7Bros Apparel: America's leading shorts and jersey manufacturing and printing company. 
Whether you play on a recreational softball team or in a semi-pro baseball league, we're here to help your team look as serious as you play.
While we can print many different products, from custom embroidered hats to hoodies, today we wanted to focus on our print on demand jerseys to help with some commonly answered questions.
What Does it Mean to Print Jerseys on Demand?
When you're ordering custom jerseys or apparel, there are two main types of procedures that you will find. 
First is what our competitors use. It looks like a page on a website to submit your logo, from which their team will print onto one of their stock articles of clothing. This can sometimes save you time (but not always) but lacks any personal touches or variations from their few simple designs. 
When you print with 7Bros, you can expect a full white-glove service that will take you from conceptualization, through design, into quick fulfillment. Our team of designer can create anything that you can imagine, allowing for a completely one of a kind piece. 
The best part? Our full on printing service matches or beats the price of our competitors! 
What Are My Printing Options?
When designing jerseys, we'll ask a few quick but in depth questions to make sure you get exactly what you're looking for. 
Some things that you can customize include: 
Garment type
Team Name
Team Colors (primary and secondary)
Logos & Designs
Large or small orders
How Can I Order Your Custom Jerseys
So you're ready to move forward? We're ready to help. Head to our Order Form page to let us know how many jerseys you want printed, as well as the main colors, team logo, and any other customizations we can create for you. 
Remember, we take you step by step through the design process to make sure that your apparel is as unique as your team is. If you know what you want, or even if you've just seen something that you like, we can make it happen for you. Let's get started.